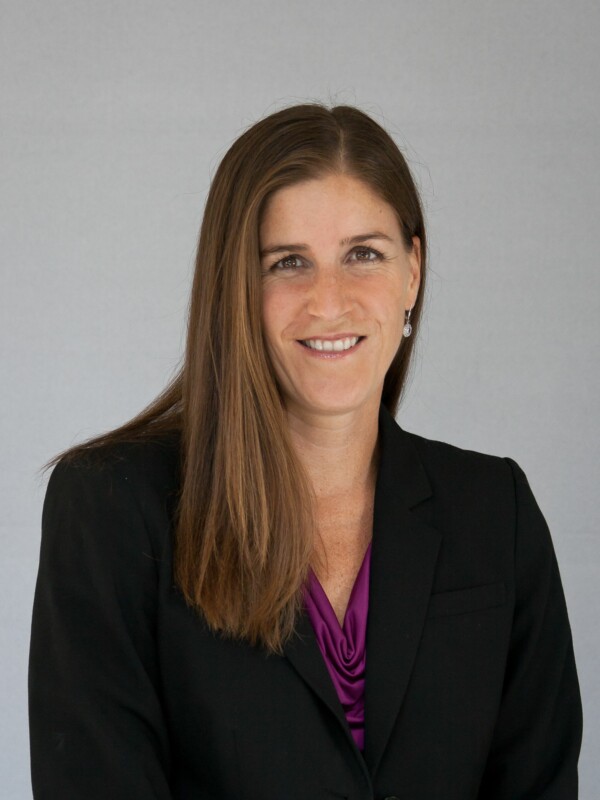 Christa M. Gannon is the Founder of Fresh Lifelines for Youth, Inc. ("FLY"). As a Stanford Law student in 1995, Christa volunteered with boys who were faced with spending most of their teenage years, and for some their entire lives, behind bars. She asked what would prevent other youth from ending up like them, and their ideas became the basis for FLY.
In 1998, Christa received the prestigious George Soros Foundation award, a two-year fellowship, to take the kids' ideas, bolster them with best practices in youth development and crime prevention, and start a pilot program. The pilot was so successful that when the fellowship ended in 2000, Christa incorporated the project into a nonprofit.
Today, Fresh Lifelines for Youth is an award-winning Bay Area nonprofit that each year serves approximately 2,500 youth ages 11-24 who are involved the juvenile justice system or are at risk. FLY's 65+ staff and 200+ volunteers in Santa Clara, San Mateo, and Alameda counties educate young people about the law, support them to become leaders among their peers, and give them positive mentors and role models. Providing services at less than onetenth the cost of incarceration, FLY helps young people out of the pipeline to prison and onto a new path toward healthy, productive lives. FLY also helps local juvenile justice systems become more just, humane, and equitable.
Christa has received numerous awards for her work at FLY, including the James Irvine Leadership Award, the Human Rights Award for the City of San Jose, Stanford Law School's Inaugural Alumni Public Service Award, the Law Foundation's Youth Advocate of the Year Award, a Bay Area Women of Influence Award, and induction as an Ashoka Fellow, one of the first in the field of Juvenile Justice in the United States.
After serving as CEO of FLY for its first two decades, Christa now serves in a formal Founder role as an advocate and ambassador for FLY, helping with fundraising and investor relations, and working on special projects for FLY's strategic plan, "Imagine 2030."
Christa holds a B.S. in sociology and law and society, graduated with honors from Stanford Law School, and is a member of the California Bar. After law school and before founding FLY she clerked for Napoleon A. Jones Jr., of the U.S. District Court, Southern District in California. In addition to her work at FLY, Christa was one of the 2018 Social Entrepreneurs in Residence at Stanford (SEERS) Fellows, a group of individuals working to advance social good in the San Francisco Bay Area and beyond. She sits on the leadership team of the Silicon Valley Council of Nonprofits (an alliance of nonprofits in Santa Clara County), has served as a strategic advisor to Thrive (an alliance of nonprofits in San Mateo County), and was formerly a member of Stanford's National Haas Advisory Board. Christa is also a wife, mother of two children, and basketball coach.
Awards and Recognitions for Christa M. Gannon
April 2018, Placer High School Athletic Hall of Fame
October 2016, UC Santa Barbara Distinguished Alumni Award
May 2016, New Leaders Council Silicon Valley Trailblazer Award
April 2014, Bay Area Women of Influence Award
January 2012, Selected as a James Irvine Leadership Award Recipient
Winter 2010, Selected as an Ashoka Fellow
Spring 2010, University of California at Santa Barbara Athletic Hall of Fame
Winter 2009, Jefferson Award Recipient, CBS 5 News
Fall 2006, Stanford Law Schools Inaugural Alumni Public Service Award
Summer 2004, Recipient of Center for Excellence in Nonprofits scholarship to attend the business program at Harvard Business School for nonprofit leaders
Spring 2004, Mountain View-Los Altos Challenge Team, Champion for Youth Award
Fall 2003, Youth Advocate of the Year Award, Legal Advocates for Children and Youth
Spring 2003, Santa Clara Law School, Bay Area Woman of Distinction Award
December 2002, Gentry Magazine Community Starts Award
November 2001, Human Rights Award, Human Rights Commission, City of San Jose
September 2001, Fresh Lifelines for Youth highlighted on WB's Sunday Morning Program, Comunidad De Valle
December 2000, Fresh Lifelines for Youth highlighted in the Open Society Institute's December Newsletter
December 2000, Fresh Lifelines for Youth highlighted as an Outstanding Program in Street Law Inc.'s Annual Report
Fall 2000, Featured on Channel 11/WB 20 News Series, "Something to Believe In"
July 17, 2000, Featured in San Jose News Magazine: "Learning the Law: An Innovative Program Teaches Teens What's Legal – and the Consequences of What's Not," by Nell Bernstein
January 1999, Selected by Youth For Justice Coalition, sponsored by the Office of Juvenile Justice and Delinquency Prevention, to be the State Coordinator on Law Related Education for California, at the time served as the youngest state coordinator in the country
Spring 1997, Special Commendation for Outstanding Service, Office of Public Interest Programs, Stanford Law School
Spring 1997, Special Commendation, California State Department Of Education: Honoring Stanford Street Law as an outstanding program for violence prevention in Santa Clara County's Juvenile Hall
1994, UCSB Honors Award: The highest academic honor awarded by the College of Letters and Science
1994, UCSB University Award of Distinction: Awarded to students who made an outstanding contribution to a particular area of student life
1994, Walter Byers Scholarship: NCAA award given to one female athlete and one male athlete for postgraduate education in recognition of outstanding performance in academics, athletics, and community service
1994, NCAA Postgraduate Scholarship: NCAA award for postgraduate education in recognition of outstanding performance in academics, athletics, and community service
1994, Charles T. Stoner Scholarship: Awarded by the Women's Basketball Coaches Association to one female basketball player planning to attend law school
1994, Santa Barbara City Club Scholarship: Given to the four graduating women who best exemplify the values of the City Club, an organization formed in 1938 to encourage women's participation in politics and betterment of society
1994, NCAA Woman of the Year, National Finalist: One of ten finalists; NCAA Woman of the Year, State of California
1994, GTE Academic All American, First Team: One of 5 nationally selected female basketball players
1993 and 1994, UCSB Female Scholar Athlete of the Year
1993 and 1994, Golden Eagle Award: Awarded to the female athlete with the highest cumulative GPA at UCSB
1993, Jean Hodgkins Memorial Award: Awarded by UCSB's Women's Center to commend a female for athletic success, community involvement, and leadership