The Power of Possibilities for Youth Like Santino
"I feel like I wouldn't have made it without FLY. FLY showed me hope."
We are deeply grateful for you and other members of our FLY Family who show love to our young people in so many ways. If you joined us at our 2021 Showcase Breakfast, you heard from Santino, a young leader and FLY alum who demonstrates the resilience and wisdom that so many FLY youth show us every day. Today, Santino is ready to begin his college career to become a medical practitioner. He is a devoted father to his 16-month old son. He inspires and entertains the FLY staff and his fellow FLY alums with his dedication, his positive outlook, and his good-natured humor. But a short while ago, Santino was fighting for his life in a hospital. A car hit him as he was trying to save a friend from the same fate. As a child and teen, he had survived abuse, failures of the child welfare system, and homelessness, but recovering from the freeway accident that should have killed him was going to take everything he had. When Santino was 16, he was coping with his deep trauma by acting out. "I robbed houses, cars, people…for money…for friends and with friends, that ended up turning on me, stealing from me, jumping me for my belongings. I was hurt, confused, and lost, really. I was trying to fill this hole."  His probation officer gave him a choice: join FLY, or get locked up. He chose FLY, and we are so grateful that he did. Santino participated in FLY's Law Program, and was later matched with a FLY Mentor that acted as a coach, advocate, and friend.  Surrounded with the caring, respect, and accountability that FLY offered, Santino began to see life through another lens. He began to see possibilities. He experienced people helping instead of hurting each other – his peers, his mentor, and the other adults at FLY.  When he joined FLY, Santino was seriously behind in school. He didn't believe he could graduate. But with his newfound positive perspective and the support of his mom, he pushed through and graduated high school. Things were looking up. And then, disaster struck when that car hit Santino at freeway speed.   What spurred Santino on throughout the impossible recovery from his car accident? He attributes much of his healing to FLY and the hope that grows with the deep love and support we give to our youth.
"I really feel that the hope that FLY helped me create was the only reason why I made it. So here I am, still in FLY with beautiful connections…I have a chance to impact others. I am grateful for the opportunities and friends I've been given, and eager to show the world the power of my possibilities." 
Watch Santino share his story at our 2021 Showcase Breakfast.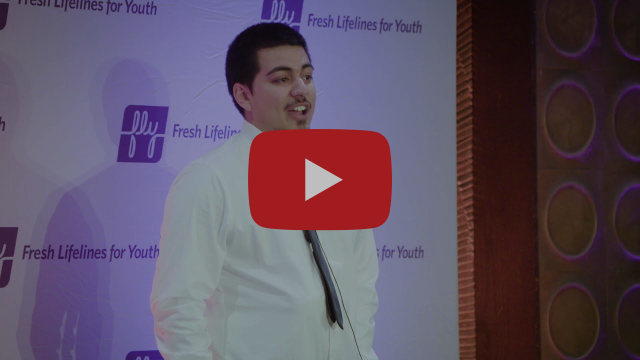 Each year, FLY works with thousands of youth impacted by the juvenile justice system in the Bay Area who face many of the same barriers to success as Santino did. The Judicial Council of California estimated that as many as half of the youth who are involved in the juvenile justice system have also had contact with the child welfare system. Last year, of FLY youth surveyed, 100% came from low-income households, and more than one-third came from very low-income households. More than 96% of FLY youth are youth of color.    FLY works with youth who have incredible potential but need support and guidance to see the power of their possibilities. Each year, four out of five youth in our case management and coaching programs engage with their education, reduce their involvement with the juvenile justice system, and build vital life skills they need to thrive. Your support makes this possible!
SUPPORT FLY YOUTH WITH A DONATION NOW
SEE IF YOUR EMPLOYER WILL MATCH YOUR DONATION