Pivoting During the Pandemic
FLY youth and their families were hit hard by the COVID-19 pandemic. The majority of our kids are youth of color, and confronting racism and systemic inequities is nothing new to them. We've seen this fact amplified during the pandemic, which has significantly impacted individuals and communities of color, and revealed how difficult it can be for our kids and their families to access adequate health care, housing, employment, educational resources, and more.
Our staff has worked hard to support youth with basic needs in addition to keeping our programs running so they can reach their goals for learning and growing. Youth say they are especially thankful that FLY has their backs in these insecure times. 
FLY programs add new elements
Keeping our youth engaged with FLY is extremely important is this time of physical distancing and isolation. The photo at the top of the page shows our volunteer mentor Monica meeting with her youth through Zoom. Our Court Appointed Friend and Advocate Mentor Program staff created an online FLY bingo game for youth and their mentors. Leadership Program staff have hosted virtual game nights and are doing virtual work-outs with their youth.
Teaching the law virtually
FLY staff and volunteer are teaching law classes virtually, and their "classrooms" have grown as more youth receive Chromebooks and other technology they need for learning. "It's been great to see more faces in the classes," said Fernanda Fonseca, FLY's Law Program Coordinator for Alameda County. Fernanda added that at one of their schools, kids will receive elective credit for the FLY class, which helps them advance toward graduation.
Classes also began in Juvenile Hall in two of our counties. Staff reported that the youth were very engaged and the classes were even more interactive than normal. One of the classes will have a special guest speaker brought by FLY, who will share a video and speak about his own journey from Juvenile Hall to being a successful entrepreneur.
Recently the Santa Clara County Law Program recruited 15 new volunteer facilitators to teach classes for this year's Fall semester. For their first-evern virtual volunteer training, were stepping into the unknown, but with great communication and preparation, the training was a huge success. (Read the full story on FLY's blog.)
Keeping education on track
Case managers continue to support youth with their educational goals such as graduating from high school, getting a GED, and applying for college. One of our Career Pathways Navigators created a centralized resource for information on the remote learning and graduation ceremony plans for specific school districts, and changes to college admissions procedures for Fall 2020. For our youth without access to laptops, Wi-Fi, or other resources needed for school, FLY has worked with corporate partners and other agencies to supply equipment so they can continue learning.
Engaging our awesome volunteer mentors
Our Court Appointed Friend and Advocate Mentor Program recently held a virtual training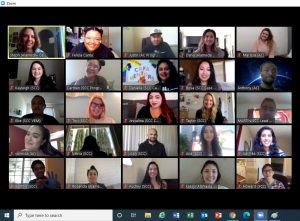 for 18 new volunteers. At one point they were joined on the phone conference for a Q&A with four youth who participated in the program. The program staff have also created an online classroom to continue with the regular quarterly training for our mentors. (Read the full story.)
FLY is recruiting mentors for Alameda and Santa Clara County. We need more caring adults to connect with and inspire our kids!
Supporting youth inside locked facilities and after their release
In Santa Clara County, youth still detained in long-term lock-up (six months or more) received access to Chromebooks and are using them tp attend our law-related education courses virtually for kids as do kids in juvenile hall. Additionally, we have been conducting 1:1 mentoring sessions with the youth via Zoom. These sessions provide a forum for youth to ask FLY facilitators questions that they may not be comfortable asking in a classroom setting.
Youth in facilities who are enrolled in our Reentry Program also attend law classes. In addition, we're using video conferencing to conduct intake assessments and develop service plans for those who are being released from custody and must quickly adjust to life under the shelter-in-place orders.
Sending letters and care packages to youth
Youth who were incarcerated in juvenile halls, ranches, and camps did not receive visits or services for weeks after the shelter-in-place orders were issued. We received the names of all kids in locked facilities in Santa Clara and San Mateo counties so that our supporters and other FLY youth could send them letters of hope and inspiration. We also sent them care packages. A FLY staff member made a short video about the effort:
Here are some of their responses from our kids:
"It felt good to know that other people are thinking about us. Thanks for also caring about us. I hope you guys are also staying safe and clean. We will get through this."

"I appreciate that all of you over there have us on your mind."

"Thank you for looking out for us and remembering that we are in a tough situation. I cared that people still think about us while we are locked up."
Our staff continues to send care packages with food and other treats, and are now able to connect with many of the youth each week through virtual FLY Law Program classes.
Reentry team care packages
With the help of Target and Amazon, the Reentry team was able to put together care packages for our youth filled with goodies and love and deliver them directly to their homes. It was amazing seeing our young people face-to-face (while keeping a social distance) and enjoy their smiles. Some of the youth posted on social media to show off their boxes, and others sent thank you texts throughout the day expressing their gratitude. It's been a tough few months not being able to have the "normal" hands-on FLY Case Management style, but this was a great reminder that COVID-19 will not hold us back from showing our youth that they are essential! Please enjoy this video collage of some of the youth:
Support our Youth
As the pandemic continues, we need more funds to provide our essential services in new and innovative ways. Please give today to help kids stay safe and keep working on their positive life goals.
SUPPORT FLY YOUTH WITH A DONATION NOW
SEE IF YOUR EMPLOYER WILL MATCH YOUR DONATION
"Before FLY I was a hopeless and lost child. And now with FLY's help I am on my way to becoming a successful adult."
— FLY Youth