​Find out how the FLY Family is coming together in this crisis
"Even though there's despair out there, we are able to go on and serve. Your support shows your love for FLY and our youth. It shows that we are all in this together," FLY staff member Joshua Orcine told us. If you're inspired by what you read here, please support FLY financially so we can continue our virtual programming for youth and their families. 
FLY youth and their families were hit hard by this pandemic
The first thing FLY staff did after the shelter-in-place orders were issued was reach out to all of our young people. We found that many of them and their family members had lost their jobs or their hours were drastically cut, and many needed help affording basic necessities. We continue connecting them to critical resources every day. They say they are especially thankful to have FLY at a time when other community agencies have had to reduce or stop their services.
Sending letters to youth in locked facilities
Youth who were incarcerated did not receive visits or services for weeks after the shelter-in-place orders were issued. We received the names of all kids in locked facilities in Santa Clara and San Mateo counties so that our supporters and other FLY youth could send them letters of hope and inspiration. Our first letter-writing campaign was a huge success. One Probation Department staff member was even in tears when speaking about the positive impact on the kids. A FLY staff member made a short video about the effort:
FLY programs add new elements
Keeping our youth engaged with FLY is extremely important is this time of physical distancing and isolation. The photo at the top of the page shows our volunteer mentor Monica meeting with her youth through Zoom. Our Court Appointed Friend and Advocate Mentor Program staff created an online FLY bingo game for youth and their mentors. Leadership Program staff have hosted virtual "Netflix and chill" or game nights and are doing virtual work-outs with their youth.
Teaching the law virtually
FLY staff have successfully delivered several law classes virtually, and their "classrooms" have grown as more youth receive Chromebooks and other technology they need for learning. "It's been great to see more faces in the classes," said Fernanda Fonseca, FLY's Law Program Coordinator for Alameda County. Fernanda added that at one of their schools, kids will receive elective credit for the FLY class, which helps them advance toward graduation. 
Classes also began in Juvenile Hall in two of our counties. Staff reported that the youth were very engaged and the classes were even more interactive than normal. One of the classes will have a special guest speaker brought by FLY, who will share a video and speak about his own journey from Juvenile Hall to being a successful entrepreneur.  
Keeping education on track
Case managers continue to support youth with their educational goals such as graduating from high school, getting a GED, and applying for college. One of our Career Pathways Navigators created a centralized resource for information on the remote learning and graduation ceremony plans for specific school districts, and changes to college admissions procedures for Fall 2020. For our youth without access to laptops, Wi-Fi, or other resources needed for school, FLY has worked with corporate partners and other agencies to supply equipment so they can continue learning.
Engaging our awesome volunteers
Our Court Appointed Friend and Advocate Mentor Program recently held a virtual training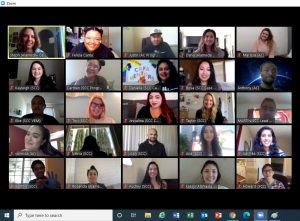 for 18 new volunteers. At one point they were joined on the phone conference for a Q&A with four youth who participated in the program. The program staff have also created an online classroom to continue with the regular quarterly training for our mentors. (Read the full story.) 
FLY is still recruiting mentors for online interviews. We can use more caring adults to connect with and inspire our kids!
Some of our Law Program staff are checking in with volunteers through virtual coffee sessions. Some volunteer law facilitators have been able to touch base with youth in our Spring classes via phone calls. And one Law Program staff group decided not to cancel their planned training for volunteer facilitators. Instead they designed and successfully delivered the training online.
Supporting youth inside locked facilities and after their release
In Santa Clara County, youth still detained in long-term lock-up (six months or more) received access to Chromebooks and are using them to hold one-on-one counseling and planning sessions with our staff. We are also ready to offer our law-related education courses virtually for kids in that facility and in juvenile hall.  Through our Reentry Program, we're using video conferencing to conduct intake assessments and develop service plans for youth who are being released from custody and must quickly adjust to life under the shelter-in-place orders.
Navigating the courts in a confusing time
While courts remained open, our staff continued to advocate on behalf of youth via video conferencing, and arranged for the family and mentors of our youth to be "present" during court hearings—an amazing signal to the courts that the community will support our kids even during a pandemic. We remain vigilant to adapt to continuing changes in court processes and overcome gaps in communication that affect our youth.
Supporting families through #GiveTogetherNow
Through our relationship with Stand Together Foundation. we were connected with an amazing rapid-response effort to provide a one-time cash payment of $500 to 150 households who have been financially impacted by COVID-19. One of our youth made a short video to thank the donors to the #GiveTogetherNow campaign. (See more about this campaign on FLY's Instagram account.)
Having a hearty dinner on The Lede
The Lede restaurant in Oakland has been providing free takeout meals for nonprofits and communities in need. FLY had a special night where youth, volunteers, and staff in Oakland were invited to pick up a delicious dish from The Lede's free meal program. This effort is supported by the restaurant and other gracious donations from the community.
You

can take advantage of a generous match grant

Many of you know that our annual spring fundraiser, Taste of Fresh Lifelines for Youth, was scheduled for April 30. It was expected to raise about $175,000 to support our spring programs, and we need to replace these funds by June 30. Because of the shelter-in-place orders, we're calling this effort Stay Home & Stay FLY. To jump start it, our Board and Alumni Board members created a challenge grant to match up to $50,000 of your giving! Please give what you can today.

SUPPORT FLY YOUTH WITH A DONATION NOW

SEE IF YOUR EMPLOYER WILL MATCH YOUR DONATION
Submit your own stories!
Let us know how you are supporting our kids during this time. Send your story to info@flyprogram.org. Thank you!
"Before FLY I was a hopeless and lost child. And now with FLY's help I am on my way to becoming a successful adult."
— FLY Youth