Why I FLY by Christopher Rodriguez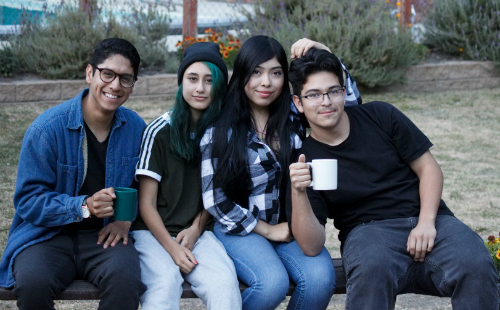 I found out about FLY through an email that was sent out to Stanford's public service community. I am so glad I decided to respond and reached out to FLY after reading the email!
I received both my Bachelor's and Master's degrees at Stanford. Going into my first year, I made a personal commitment to engage in public service every single quarter that I was there. It was important for me—as a first-generation, low-income college student—to recognize the unbelievable amount of privilege that I was gaining from a Stanford degree. Most of my public service experiences in college involved tutoring and mentoring elementary through high school students in the Bay Area—the same communities in which I grew up. So after I scrolled through FLY's website, I decided it seemed like another perfect opportunity to give back to youth. My degrees have no value to me unless I can use them to empower the people in my community.
My experience volunteering with FLY has been so grounding and so rewarding. I have so much fun teaching law to students at Gateway. I'll be honest, I wasn't too excited at first to have to wake up so early on Friday mornings, but it has truly been the best way to start my Friday each and every week. We don't always get through the entire lesson, but to see the youth really engage with and discuss the material shows me that they genuinely enjoy learning. I also realized early on that it's one of the only times in the week where they can have a little bit of fun at school—they are loud and rambunctious and SO funny. I laugh so much during every class.
And I couldn't be more grateful for having had the opportunity to attend the leadership retreat over the summer. Being in a space outside of the classroom allowed me to connect with the youth on a different but equally meaningful level. It was incredible to see them cycle between being silly and fun to opening up and being vulnerable with each other. The retreat vividly demonstrated the positive impact that FLY has on these youth.
One youth told me that he often missed class because he had to work to help financially support his parents. It was a simple and casual conversation, but one that really stuck with me. I had a similar experience growing up, having to help my parents at their jobs on weekends and sometimes even weeknights. It's hard to put into words what it's like to be a child and grapple with carrying the responsibility of your parent's economic security on your own shoulders. It just made me think that if the two of us were sitting next to each other, no one could ever tell that we had the same exact experience growing up.
FLY understands the importance of giving second chances after making mistakes. And that some people need a third, or fourth, or fifth chance.
FLY is so important because of the people who work everyday to ensure that these youth are given all of the chances they need to be their best selves.
I was telling a good friend recently that a huge part of my decision to stay in the Bay Area after my graduation was driven by the people I met at FLY. I genuinely have not met a group of people so dedicated to bettering their community than the FLY staff. They have so much compassion and diligence and kindness that it was a salient reminder of why I made that personal commitment to public service so many years ago. They put all of their time and energy into making sure that youth feel supported and empowered and resilient. I can't think of a single reason not to support FLY!